Welcome to Peace Fellowship Church
A diverse community nurturing authentic relationships with God and one another
1 Corinthians 12:4-31 Elder David Cho...
John 16:12-15 Rev, Dr, Youtha Hardman-Cromwell...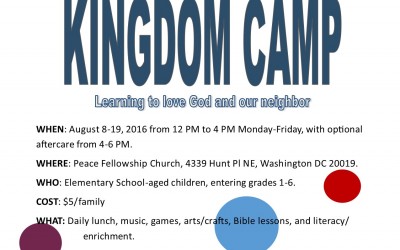 From August 8-19, Peace Fellowship is running a day camp for church and neighborhood children. You can download the registration forms here, and then submit them by email to brian@peacefellowshipchurch.org or in person at the church by calling 202.525.6930 or Sunday... read more
On Sunday, July 10, several members of Peace Fellowship joined area churches and over one thousand other Christians at Freedom Plaza to make a covenant to act towards ending violence in our communities. Pastors as well as local police commissioners from Prince...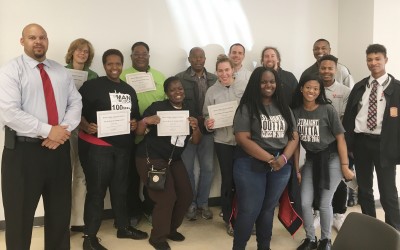 In response to a disturbing trend of young people being killed and assaulted in Deanwood, IDEA Public Charter School was a host site for Man the Block, a city-wide event to raise awareness and community involvement in creating safe passages for youth to walk home from...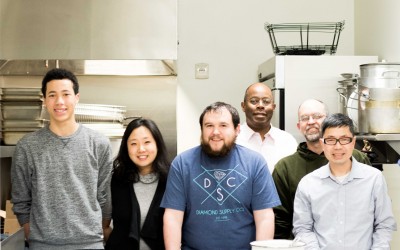 Derrick Chin leads Peace Fellowship members in serving meals to women at Calvary Women's Services.
Church Life
July 31 @ 9:15 am
-
10:00 am
Community Events
July 31 @ 12:00 pm
-
1:00 pm
We are Peace Fellowship Church
Our mission is to develop disciples of Jesus Christ east of the river who love God and love their neighbors.
Our Core Values guide us in our life together:
Biblical Authority
We are committed to learning and living the teachings of the Bible, the Word of God.
Persistent Prayer
We acknowledge the reality of spiritual warfare and affirm the power of God; therefore, in faith, we are zealous to pray, individually and collectively.
Dynamic Worship
We seek to worship in spirit and truth, glorifying the Father, Son and Holy Spirit with sincerity, creativity, and variety.
Creative Evangelism
By the power of the Holy Spirit, we share, in word and deed, the Gospel message of salvation through Jesus.
Deliberate Discipleship
We develop and release people to use their God-given gifts and talents to advance the Kingdom of God.
Loving Relationships
We are determined to be a friendly people: loving one another, welcoming the stranger, and respecting our leaders.
Relevant Ministries
The timeless message is delivered with timely ministries. We are led by the Spirit and not bound by human tradition.
Cheerful Giving
Since the Lord loves a cheerful giver, we give of our time, treasure and talents to share the love of Jesus locally and throughout the world.
Peace Fellowship Church
4339 Hunt Place NE Washington, DC 20019 (202) 525-6930